Republican Gov. Greg Abbott's top donors were Texans
Californians as well as out-of-state donor George Soros have been major contributors to Democrat Beto O'Rourke's gubernatorial campaign to oust Republican Texas Governor Greg Abbott.
Soros, a Hungarian-born businessman who has championed Democrats and their causes for decades, is known for his support for progressive candidates. Many candidates he helped elect are seen as far-left, such as George Gascon, who won the 2020 Los Angeles District Attorney race but faces a second recall effort for his lenient stance against crime.
O'Rourke, who unsuccessfully ran for the U.S. Senate against Republican Senator Ted Cruz in 2018 and for the Democratic presidential nomination in 2020, amassed $27.6 million in campaign contributions from late February to June . Abbott raised $24.9 million during the same period.
Abbott maintained cash of $45.7 million, well above O'Rourke's $23.9 million.
In addition to Soros' $1 million contribution, O'Rourke received $1 million each from Tench and Simone Coxe, a couple from Austin, Texas, formerly of California. He is a venture capitalist and she is a co-founder of public relations Blanc & Otus.
Texas campaign records show that many of O'Rourke's major donations came from out of state. He received a total of $500,000 from 28 California donors who gave $10,000 or more. Our Texas Pac in Colorado donated $500,000 and the American Federation of Teachers in Washington DC donated $300,000.
Meanwhile, many of Abbott's campaign donations came from Texans. Its top donor was S. Javaid Anwar, a Midland oilman and regular GOP contributor, who gave $750,000 to the governor's campaign. Abbott appointed Anwar to the Texas Higher Education Coordinating Board twice.
Only one of Abbott's top donors, Kenny Troutt, a California real estate billionaire who contributed some $500,000, was out of state.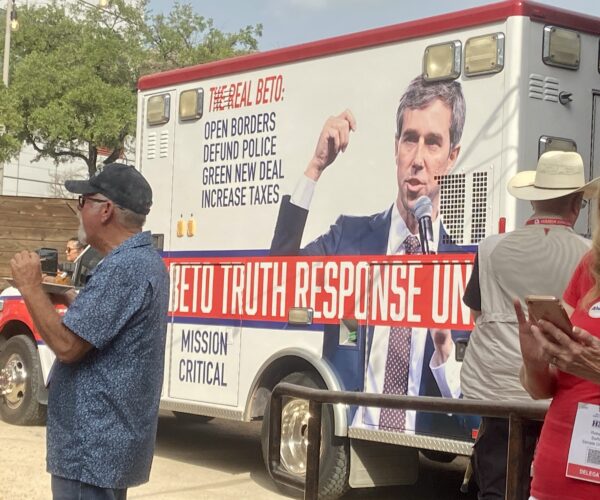 O'Rourke this week began a seven-week campaign across the Lone Star State, where he is scheduled to make 70 saves. Abbott pledged to follow O'Rourke's campaign with an ambulance listing what the "real" candidate actually stands for, while launching ads against his opponent.
Abbott wasted no time in seizing on O'Rouke's ties to the left with an ad titled: "Defend Texas from George Soros!"